History & Honours - OUR HISTORY
THE HISTORY OF WAYSIDE CELTIC FOOTBALL CLUB
MAIN PITCH JACKSON PARK HOME OF WAYSIDE CELTIC
FOUNDED 1948 KILTERNAN CO DUBLIN
Wayside Celtic FC, was formed in 1948, We are a South County Dublin amateur soccer club, Our home ground is Jackson Park, Glenamuck Road, Kilternan, Dublin 18.
Wayside Celtic were founded by a group of men from the kilternan area and played for the first few seasons in Stepaside before moveing to their home for many years in Golden Ball Kilternan,many happy susccessfull years were spent in the Golden Ball before our move to our new hope Jackson Park,over the years the club has grown from strength to strength and now cater for 3 Senior Teams 28 Schoolboy teams and a very successfull Junior Acadamy all run by volunteers who give up their time every week to keep our club as a leading football club in South Dublin.
The tower on the Wayside Celtic football club crest is the remains of the leadmines in Ballycorus, Kilternan, It can be seen from the club's original grounds at Golden Ball, Kilternan, The club crest was designed by Wayside Member, Billy Kelly.
On the 50 anniversary of the Club members of Wayside soursed the origional gold fleck balls that were missing from the old Abbey Gate Pillers in Kilternan beside The Golden Ball and put them back where they belonged thanks to Joe Walsh,Paddy Farrelly.Bob Mc Carthy and Ger Doyle.
Wayside Celtic has had a number of successes on the soccer pitch in the past, The club won the Leinster Senior League Senior Division on five occasions most recently in 2011.
Wayside Celtic has also won the Metropolitan Cup in 2008 & 2012 and also the Leinster Junior Cup in 1989
Wayside Celtic have won the FAI Intermediate Cup 3 times in 1996, 2001 & 2005.
We have beaten League of Ireland opponents on five occasions in recent years in the Football Association of Ireland - FAI - Cup.
In the recent past, No fewer than Eleven Wayside Celtic players have represented the Republic of Ireland soccer team at amateur level since the year 2000.
LIST OF WAYSIDE CELTIC HONOURS:
Wicklow League Winners
AUL League Honours
Div 3 south Winners 1953
Div 3 winners 1978
Div 2 winners 1980
Div 1 sat winners1985
Div 1 sunday winners1987
Wayside were runner up on too many occasions to mention but gained promotion by finshing runner up many times.
Leinster Junior Cup Winners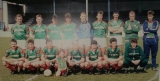 LEINSTER JUNIOR CUP WINNERS 1989 Back Row B.Nolan.John Burke.Mark Boyle ,P.Mooney D.Kennedy, K, Fitzgerald .J,McNulty.Billy Kelly John Byrne Front Row Ger Hayden ,P.Duignan M.Grimes , Colin Leahy,Peter Lennon D,Jackson R.Houlihan Mascot Wayne Callaghan
Leinster Senior League
Senior Division Winners
Division 1A Winners
Division 1 Winners·
Major 1 Winners Saturday
FAI Intermediate Cup Winners
1996
2001
2005
Metropolitan Cup Winners
Dublin Bus Charlie Cahill Cup Winners1996
Noel Ryan Cup Winners
Leinster Senior Cup winner 1999
1999 Beat Athlone town in the final
2012/13 Leinster Senior Cup beat Drogheda away beat Bray Wanderers Jackson Park lost to Shamrock Rovers in semi final Jackson Park.
Amateur International Players
11 players have represented the Republic of Ireland at amateur level since 2000.
Wayside players who represented their country are George Webb, Alan Mc Hugh,David Gill,Damien ONeill,Les Flynn,Paddy Kavanagh,Wayne Callaghan,Ian Callaghan.John ONeill,David Sullivan and Ray Whelehan.
Leinster Senior League Saturday
Division 1 Winners
Division 1A Winners
Liam Dodd Cup Winners
Lanagan Cup Winners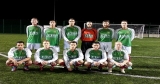 We at Wayside have endeavoured to put the right information on our site if any of the above information is not correct please contact us at info@waysideceltic.ie